The Gardens of Modesto
Dining & Nutrition
Dining & Nutrition
When it comes to food, let's be honest: there's a difference between eating as a way to fuel your body and dining as a way to spark your spirit. At The Gardens of Modesto, we deliver on both. You'll get healthy, nutritious options that can be tailored to doctor-recommended diets and specific meal restrictions. And you'll also get flavorful, inspired meals created by a Food Network celebrity chef who excels in culinary marvels.
Sometimes, people think you need to sacrifice your love for great food when you join an assisted living community. We believe otherwise. Meals are central to fostering community, connection, and celebration. We embrace that delicious tradition every day, and every meal, at The Gardens of Modesto.
Restaurant-style meals developed by a celebrity chef, with an emphasis on fresh, seasonal selections
Focus on nutrition, so you make sure to get the nutrients you need, along with the flavors you love
Individualized dining choices so you can have your favorite dishes while still adhering to the guidelines of a doctor-recommended diet
Dining with others to keep social connections strong, in a light-filled, cheery dining space
From the very start, we set out to redefine the dining experience for assisted living, and we've succeeded. Come and sample our exceptional and inspired menu selections.
Located in Modesto, CA, The Gardens of Modesto is an elegantly furnished senior living community with 37 private or companion suites, as well as respite care and short-term stay apartments for older adults with specialized needs. Our skilled, friendly, and compassionate team members are available 24 hours a day to deliver personalized service for every resident.
Enjoy restaurant-style dining, a range of social and educational activities, in-house beauty salon, activity room, fitness center, transportation for errands and appointments, laundry, and housekeeping. Everything you need meets everything you love, at The Gardens of Modesto.
We're Here to Help
Find helpful blog posts, e-books, and resources about senior living, health topics, caregiver wellness, and more for older adults and family members.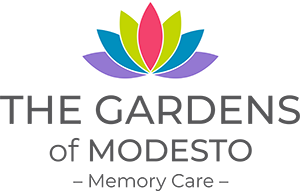 If you're looking for an amazing senior living experience, look no further than The Gardens of Modesto.
Elevating Memory Care to new heights with services and amenities like nowhere else.