The Gardens of Modesto
Our Neighborhood
Get to Know Our Neighborhood
Part of what makes The Gardens of Modesto so special is the location, right in the heart of Modesto, CA. Being in a place where everything is within walking distance or a short drive is incredibly helpful for staying active and engaged in every way.
Community isn't a building or even a single group of people. It encompasses an array of connection points. Maybe it's the barista who pours a your favorite cup of coffee as soon as you walk through the door, or the cashier who calls you by name, or the musicians at the local farmer's market who ask your favorite tune. When you feel that sense of place and belonging, it's home. We're fortunate and grateful to have that type of community here, and we think you'll love it just as much as we do.
Peaceful times ahead-easy living is correct
The Gardens of Modesto is nestled in a lovely neighborhood in Modesto, close to hospitals, medical centers, shopping, restaurants, churches, and entertainment. Just a short drive away are many notable attractions and places worth visiting, such as:
Doctors Medical Center & Memorial Medical Center
Central Valley Specialty Hospital
Sonoma Elementary School
Freedom Park
Scenic Trails
Creekside Golf Course
Modesto Senior Center
You'll be close to performing arts venues and sporting events, not to mention a wide array of restaurants, museums, and historical sites.
Another top aspect of our location is easy access to Doctors Medical Center & Memorial Medical Center. Whether you need a short-term stay while recovering from treatment or a longer-term rehab close to your doctor, you've got it all here.
An Adventure EVERY DAY
We offer many daily activities that are tailored to the needs and interests of our residents, encouraging their level of independence. We always put an emphasis on fun, creativity, and learning when it comes to our senior enrichment program, especially those with memory impairment. We continue to make changes in order to meet the changing needs of each resident and know each day looks different.
Our refreshing take on memory care is nothing short of exceptional. Our carefully crafted resident programs create opportunities, and experiences to ignite passion, purpose, and play. With a lifestyle full of choices, safety, abundant amenities, convenient services and well-appointed accommodations, you can rest assured your loved one is enjoying the lifestyle they deserve.
We curate a lifestyle of purpose. Creating a cadence that inspires residents to live out their potential, we thoughtfully design each day with resident's hobbies, interests, histories and unique abilities in mind. Inspiring residents to live intentionally isn't just a philosophy, it's what we do.
Live Intentionally is Memory Care with Distinction.
Expertly Designed:
Designed by a 2x award-winning dementia expert and leading technology partner.
Customized by each community to celebrate our residents.
Curated to enhance the lives of individuals with dementia.
Technology Empowered:
State-of-the-art engagement system informs programming, connection and intervention
Residents and loved ones remain connected and informed
Streamlined and consistent communication enhances our relationships and provides peace of mind to families
Person Driven:
We know our residents, and we celebrate their strengths.
We don't pass time – we offer purposeful pursuits.
We develop authentic relationships based on knowing, loving and caring for our residents and their loved ones.
From morning to evening, our residents can reach their full potential through a myriad of exciting opportunities. To learn more about our ongoing calendar of unique events, please chat with us below.
We're Here to Help
Find helpful blog posts, e-books, and resources about senior living, health topics, caregiver wellness, and more for older adults and family members.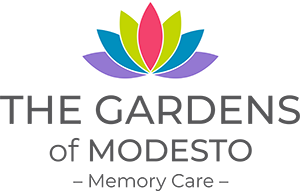 If you're looking for an amazing senior living experience, look no further than The Gardens of Modesto.
Elevating Memory Care to new heights with services and amenities like nowhere else.